On Sunday morning the rain finally stopped. I grabbed the chance to get the old Falcon out and went for a cycle to Cove, near Cockburnspath. This little harbour is one of the hidden gems of Berwickshire. I remember being brought here as a kid and fishing for crabs. In those heady days of the 1970s it was always sunny! The weather has changed but not much else.
Cove is a little village built around 1810 by the Halls of Dunglass to house the estate workers and fisherfolk. There has been a harbour of sorts since the early 1600's and in 1740 the access road was built. Just before the road reaches the cottages there is a tunnel that leads to the beach. You can see it on the far left of the above pic.
The road was a bit bumpy but not any real problems until my front brake failed, then it became interesting. There are a couple of boats still fishing from Cove.
These creel boats will mostly fish for the lobsters. With all the rain this summer the sea is brown from the rivers. There's not a lot of fishing to be done in these conditions.
Old frame, older stone.
The red house below the cliff can only be reached across the beach. Guess if you want a piano it is going to have to come in by boat.
I didn't bother with the stove today. Just brought a wee flask of freshly pressed coffee. A fine place to sit and enjoy Sunday morning.
As well as being a wonderfully peaceful little harbour, Cove was also instrumental in 19th Century Scottish art. From 1883 to 1888 an informal group of artists lived here. They became known as '
The Glasgow Boys
'. Sir
James Guthrie
spent a lot of time painting the lives and people who farmed and fished in those days. The post box has 'VR' so must have been installed during Queen Victoria's reign. Given that post was the only means of long distance communication in those days, Guthrie et al must have posted their letters home from this very box.
There seems to be a resurgence of an arty feel to the hamlet although whether you can compare this with the work of The Glasgow Boys is a matter of personal opinion.
If you visit Cove by car there is a small parking area between the cottages. Originally this was a common ground where the workers for the Halls family grew their vegetables. The Scottish word for a farm labourer is 'Hind'. Guthrie painted a lass tending the vegetables when he stayed here.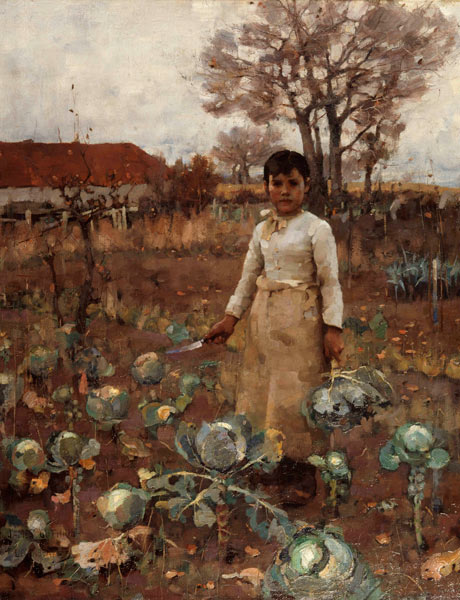 James Guthrie's A Hind's Daughter, 1883. Photograph: National Gallery of Scotland
A fine Sunday cycle in a beautiful place. The coffee was good too.
19.5 miles. 12 Degrees, cloudy, damp F1 NE backing. New brake cable outer needed.